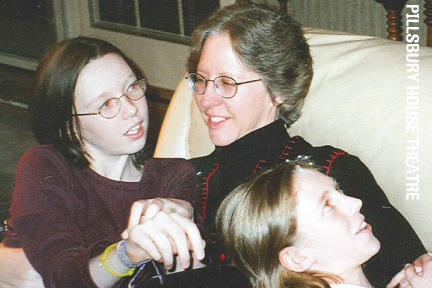 Beth Milligan saw art as a way to transform people's lives and devoted herself to that work. In her incredibly full life, she was the Development Director for the Vinland Center, the Executive Director of Grey Wolf Press, a writer, and a passionate theater-goer. She passed away in November of 2000 at the age of 44, after a short bout with breast cancer.
Her family felt that directing memorials to Pillsbury House Theatre would be a fitting tribute to Beth's life because PHT embodies her own beliefs about the intersection of the highest quality art and inspired social services.
The Beth Milligan Fund at Pillsbury House Theatre supports women artists and artists of color in the creation of new work. Her sister Sarah Milligan-Toffler calls it a "perfect fit." In the past ten years, Beth Milligan and the Milligan family have helped produce plays like The Bi Show and Playlist as well as the just-announced world premiere production of Tracey Scott Wilson's Buzzer, a co-commission with the Guthrie Theater.
Consider including Pillsbury House Theatre in your estate planning. Contact Corrie Zoll for more information, 612-787-3642.
photo of Beth and her daughters Caitlin and Hannah