About
ABOUT SCHOOL RESIDENCIES:
Our residencies develop youth leadership to build community and engage in dialogue about tough issues such as racism and community violence. Many of the youth involved in the partnerships have not spoken up before they perform but become vocal leaders after they experience success in the program.
Our purpose is to use theatre to examine social issues such as violence, poverty, racism, homophobia and religious difference, and the ways these issues impact individuals and their relationships. By building a spirit of ensemble collaboration among the youth in each residency and teaching creative writing and performing skills, we provide an avenue for youth to speak their truth publicly, and to share their perceptions, talent, energy and individual voices.
We envision youth connected with caring adult mentors, creating theatre that speaks to issues relevant to their lives. We envision youth with opportunities to develop their own voices as they write their stories and perform them for peers, family members and community stakeholders. We envision youth becoming leaders, taking action to make positive change in their lives and in their communities.
Past residencies have included Green Central Middle School and Washburn High School.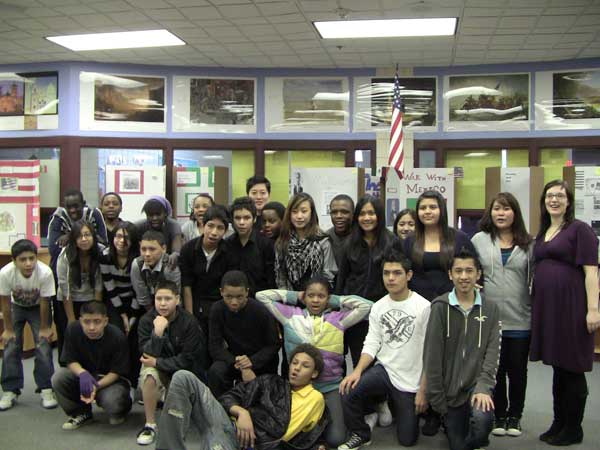 Green Central students from 2011.
What's New
Washburn High's Black Box Theatre presents an original play by the Theatre 3 class, at Pillsbury House Theatre, on Friday Dec. 20th.
We are working with a group of kids in 3rd and 4th grade from Green Central School, Bancroft and Anderson (I think).  We are working on being "community and cultural connecters" and incorporating those ideas into a piece of theatre that the kids will create.  For the last two weeks we have been working on looking for things in our neighborhood that reflect our community and representing them through drawing and writing.  We have exploring what it means to be a community, and also what kinds of people make up a community.  We will continue to investigate those questions after 4th of July break, as we start to delve more deeply into making a theatre piece.  The students will be designing, building, writing, and performing in a piece of their own creation.
— Angela Olson, Resident Artist
Photos
Video