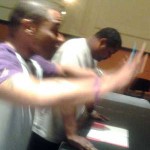 [From Payton Woodson, longtime Pillsbury House Theatre Company Member, who led the Power of our Voice Teen Ensemble while James A. Williams was working in New York. Pictured: Payton examines the script while Kevin directs.]
POV, I have to admit, was the highlight of my year. I went in to sub for James Williams for a short time and ended up directing the show. So I was able to use his model and his scope, which was really to get the kids to think deeper and look further into themselves, so the writing could stand out as something different, new, fresh and all about themselves. It wasn't a typical teenage show that was about image and peer pressure, although those themes where in there. Those themes came out organically in the kids writing, but they went into further detail about what's truly on their mind — from Family, dreams, failures, vulnerability to pure creativity and the creation of characters.
I will also admit that I was petrified at the idea of having to weave their writings together much less direct them onstage, but here I was allowing the kids' words, stories, anecdotes, poetry, rap and spoken word speak to me. Once I got the opening sequence down in my head, my creative juices replaced the nervousness with excitement. Every time I read the script, images inundated my head about how it could look on stage. Whenever I didn't know what I was doing I could always rely on Nicole [Smith] or Kevin [Moore], Pillsbury House staff, to help shape something. It was a wonderful collaboration of ideas. The more POV youth got into the work ,the more I could layer in bits of "theatre. That was my main goal — to take their words and theatricalize them; enhance their voice with staging, sound and lighting.
One of my proudest moments was asking them what other talents they have other than writing and acting and learning that Madeline played Cello and Elise was in training for opera. Conor does spoken word, and Daniela was exercising her rap chops. I weaved all that into the show, and we found really beautiful spots to meld that in. It was wonderful all the way around because singing opera or playing an instrument or rapping became an extension of Voice.
The biggest challenge was not having all the youth in place until the day before the show. And even when I did have them all people had to leave early. But when we got into Pillsbury House Theatre, the kids got to see what was happening with lights and sound. I think it really boosted up their idea of this being a professional production. The transformation was quite surreal. At show time the kids were amped; some were on book, but they really pulled it off well.
I hope my schedule allows for my return to POV next year working along side some of the most talented kids in high school.