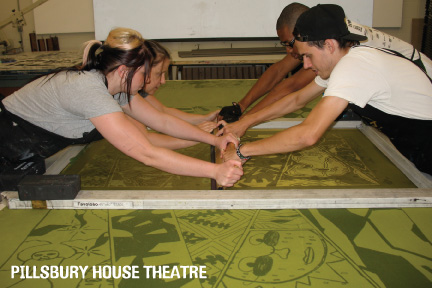 "I have always been interested in how art can be used as a tool for healing and engagement," recalls Minneapolis College of Art and Design Professor Natasha Pestich, "but I was blown away by the effort at Pillsbury House to think about it in new ways and impressed by how many things happen here."
Throughout the month of August, she led three student-leaders and countless volunteers from MCAD and PH+T in transforming the building's main lobby into a space that more honestly welcomes the neighborhood and represents the creativity of the programs and services available. The new lobby includes couch covers designed by interns from the Full Cycle program, columns decorated with words that convey our values, and custom-made furniture. The overall design emphasizes a safe and comforting environment in a diverse and ever-changing community.
Student-leader Schuyler Huber reports, "Through my time at Pillsbury, I became acquainted with a wide assortment of people whom I never would have otherwise met, and it was valuable to me to discover how much one can accomplish and now how it will propel me further."
Your donation makes this story possible.
photo of (L to R) Lindsay Splichal, Natasha Pestich, Kabaar, and Dustin McChesney