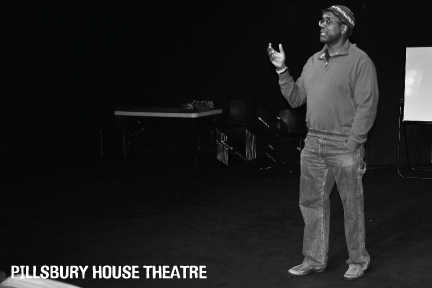 Pillsbury House + Theatre's Director of Teen Programming James Williams and PH+T Resident Artists work with juvenile offenders ages 13 to 19 housed at the Hennepin County Home School, a residential treatment center for youth designated at moderate or high risk to reoffend.
PH+T spends three weeks with the kids developing a performance through workshops in movement, storytelling, spoken word, drumming, writing, and puppetry. Kids learn to express themselves as individuals in a healthy way and to rely on one another as a group. A performance before residents at the County Home is followed by two performances at Pillsbury House Theatre where family and friends sit with judges, lawyers, and parole officers to see the young men's transformation.
Counselor Jessica Larson reports of one participant, "The play definitely helped him have confidence and improve his writing skills. Now he's working on his GED, and he is using what he learned in the play to master his writing test."
Your donation makes this story possible.
photo of James Williams by Seniz Yargici Lennes, 2011