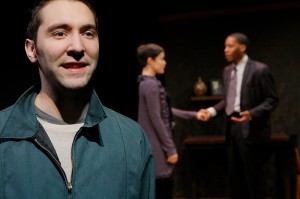 Buzzer by Tracey Scott Wilson was a world premiere production of a play that we commissioned ourselves. No one had ever seen it before you did at Pillsbury House Theatre this year. No one knew what to expect.
The fact that became one of our most successful shows ever, selling 96% of the available seats in the house, is a testament to the power of theatre to make an imprint on people. We can't thank you enough for urging your friends to come see the show, and we hope we helped instigate some interesting conversation among neighbors around the area.
From February 8-March 3, 2013, you'll have the chance to experience the play again–with the same cast and director–but this time among an even larger crowd (we hope) in the Dowling Studio at the Guthrie Theater.
You are now the first to know that Tracey is still working on the play, so this version may still have the power to surprise you.
We hope you'll make the journey down to the river with us and keep the fascinating conversation about class, race, and gender going.
Photos by Michal Daniel