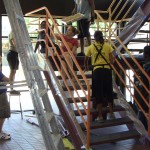 Would you like to join us for a behind-the-scenes tour of PH+T? – it's not even a fundraiser!
You probably know something about what happens here at 35th & Chicago, but it is likely that much of what we do remains a mystery. Did you know about our bike shop staffed by homeless teens? What about our free medical clinic open two days a week on the third floor?
We recently started hosting tours of PH+T that show it all. Depending on the day and time, you'll likely see what is happening in the theatre (and backstage), as well as in the bike shop, the childcare center, the commercial kitchen, the library, the balcony, the youth art room, the dance studio, the clinic, and more.
Our first tour groups have been surprised to learn:
• Our lead childcare teacher Charlene has been here for 20 years, and has cared for multiple generations of some families.
• Organizations like Upstream Arts and Obsidian Arts office here and complement our mission.
• We have free coffee in the lobby all day long.
Join an existing tour group, or bring your own group for a tour. E-mail Corrie or call 612-787-3642.