sorry about missing last week however it was full and eventful. the big day is coming up and emotions are running high. i'm sitting in my office with one of the graduates of the program. who is doing fine, living on his own and starting at HCTC in September. meanwhile at the home school the writing is coming hard and fast and the show is starting to take shape.
as we start blocking i get the yearly revelation "it is possible" the script will be done shortly, there's never enough time. someone hands you a new piece that brings a tear to your eyes, or an epiphany is reached and you shout "YES, THAT"S IT!"
another sample of the poetry that is coming from the hearts of these forgotten citizens
"thoughts flow like an open river
down the streets of silver and gold
joyful memories that will last forever
but moments have to end sometime
trapped in our good memories of the past
N let the present pass us by
so now we way behind
couldn't take it and fell
feeling like we got a 1 way ticket to hell
so don't get left behind because
some moments can last a lifetime"
young hearts shift from excitement and anticipation to trepidation and fear
old patterns try to reemerge. how can i sabotage myself? petty arguments occur, misdirected conversations and the struggle for power in a young souls between the risk of acknowledging budding talents and the known territory of lack of effort. everyday i watch them garner enough courage to try again. a movement pattern, a tongue twister, to reach that note. it brings me face to face with an earlier me. looking for a way to count, to make a difference. to borrow from another of my young artists " i just want to be somebody during the time i'm in here." slowly but surely they're succeeding
don't miss the fruits of their labor. wednesday and thursday, august 15 and 16, 2pm at pillsbury house + theatre
jayydubb
Well, boys and girls, there's a little more to this blogging thing than i anticipated.
I thought I'd get right back for the next installment and here it is three days later. Our first week has been rough and emotion-filled. Two of the four teaching artist are going through the program for the first time, and the red tape can be a little exasperating. There are background checks on top of background checks, rules and regulations surrounding what can and cannot be taken into the facility, then finally adjusting to being on your feet and at your best @ A.M and the frustration of having one of your sharpest prospects choose to work instead of participate because she is working towards being better at honoring her commitments (how can you argue with that logic from a teen?)
Both tracks (male and female) are releasing into the process: movement, theatre, and community building in one session and music, theatre and community-building in the other. As you can see there is a whole lot of community building going on. In an environment where trust is an issue, imagine having to establish the ground work for building a performance based on openness,vulnerability and respect with a group that has known very little of any of the three.
Slowly we watch as our participants select poetry from books by Sonia Sanchez, Langston Hughes, Tupac Shakur and Saul Williams to drop a few names and struggle through various levels of reading and vocabulary skills to find connections and resonances to their situations and lives.
Over the past week, their questions have morphed from "Can you teach me to write a poem like that?" to "How did you like that metaphor?" The behavior has changed from laughing at one another's' struggles to congratulating a shy student for taking a risk and starting to come out of their shell!
Having students removed unexpectedly from class for dental visits and trips to the nurse make it nearly impossible to have the whole group at the same time but somethings are to be expected.
From time to time i will post a piece of writing from one of the students. as i have said anonymously:
The challenge:
the challenge of being a teen. while not stepping on a crack to
break yo mamma spleen
the challenge:
the challenge to know the righteousness of life
to continue to know what's wrong and what's right
the challenge:
the challenge 2 be someone different
while making a difference and an honest living
the challenge:
the challenge to have female friends
all different colors w/o any beef
the challenge:
the challenge if only they knew they were all queens
the challenge:
the challenge to experience life itself
to not be anxious but…..
calm and confident
the challenge
the challenge to be awesome
yet wise within your mind
the challenge:
the challenge to change how they think about our situation,
our generation
and how we spend our time.
the challenge:
to show our ability!
until next time:
peace
jayydubb
First, a few words about this blog and process.
We will chronicle the process of creating a brand new performance piece that will be brought to life through a five week workshop conducted @ the Hennepin County Home School, starting with our first rehearsal and ending after our victory celebration. Because all of the residents are under 18, no names will be used and no photos will be posted; however individual writing pieces will be anonymously posted and certainly anecdotes will be shared.
We have a wonderfully talented group of teaching artists: Jamila Anderson, Patricia Brown, Ahanti Young and myself.
Today was the audition session of the process where the students who've been cleared to participate are eager, anxious, and full of excitement and curiosity. As we started with the "Energy Ball" with the males (explanation to follow) an exercise staple andbasic theatre game, wide-eyed participants looked from Jamila to me wondering who were these people and why were they asking usto do this crazy stuff? After the first round and the initial hesitancy, one by one each member, ielded slowly to the idea of not looking "cool" in front of the rest of the group. By the time we got to the third round, where the "ball" could be transformed into a specific object or activity, they were all in–finding the enjoyment in the spontaneity of the moment. Without openly showing they were having fun.
I am always amazed by how far away from childhood we start out yet how quickly wecome back to it.
This year we are trying something new (or at least new for me) with a mixed group of performers. A play in two acts from both the male and female points of view of life as teen. I was hesitant to take the journey but after ninety minutes with the young ladies I walked away hopeful and believing something special can happen. The ladies brought a cooperative spirit to the same " Energy Ball" exercise that was revealing. The guys approached the exercises as a competition while the ladies took longer to commit but once in, they built off each other–in spite of struggling to maintain a veneer of indifference. They ended up going around four times without stopping, each one watching the others and vamping on the idea, subconsciously creating small stories. A piano became a turntable and then transformed into a microphone and we where serenaded by a wordless concert. Afterward one of the staff in the room leaned over and whispered "That was beautiful!" And he was right.
I wish I knew what all of that meant so far. If  any of you have a theory please post. I can use all the help I can get.
Until tomorrow,
Jayydubb
ABOUT THE HOME SCHOOL PROJECT: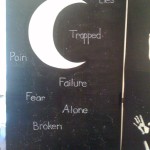 The Hennepin County Home School Theater Workshop is a five-week program that uses playwriting, poetry and theatre to educate and transform the lives of residents at the Hennepin County Home School. The workshop culminates with community performances. Professional artists mentor the young people and guide them through the theatrical process, writing and then performing their original script. The workshop develops creativity, social interaction and discipline and channels the diverse emotional energies of the participants into structured forms of artistic expression. The result is an artistic production of the highest merit. Sharing their work, words and success with the community is the keystone that validates them as participating partners in the community. The invited audiences include, their families, neighborhood youth groups, community arts groups, and workers within the juvenile justice system. Included are probation officers, judges, police and politicians.