2013 HENNEPIN COUNTY HOMESCHOOL PROJECT
Public performances: August 14 and 15, 2:00 p.m. Free--just show up. at Pillsbury House Theatre, 3501 Chicago Avenue South (
Directions and parking
)
THE BLOG
We've reached the day of the show.
Fear is an amazing motivator.
For 5 weeks I've told them everyday that time was at a premium but it never struck home until the first thing this morning. I said "The first show is tomorrow." Now mind you I've announced this everyday for the past week–how long we had until the show.
The first response was "You mean tomorrow, tomorrow?" "Yes that's what I mean" "We really don't have time do we?" was the surprised reply. Several youth got nervous and wanted to ask a million questions. What will we wear? Have they called our families? Where are we performing? They had all been answered before. "It's okay to be nervous. It means you serious about this," I said. "I'm not nervous!" one young man said. "It's ok" I reassure him "we all get nervous, I've been doing this for 35 years and I get nervous. It means you're alive" He's having none of it. "I'm not nervous." "ok," I say "here's what happens when each of you get nervous" and I describe how one looks up for the line they can't remember, another fidgets, another looks at me for constant approval, one zones completely out and the speaker talks at an alarming rate. As I describe what they do, each one nods in recognition. Just last week there would have been subtle grumblings about me dissing them, but they have progressed. We do a line through where they're made to ride cues and pick up energy from each other. Their fear is making them pay attention, but the focus is still off. I go to the art room and check on the backdrop (another story for another time) and when I return we start a run through and we make it through. One of my young men is still determined to sabotage himself by just stopping and shouting, "Hey can I try something different!" It's not really a question but an attempt to get a reaction from Ahanti, Chadwick or me so we can argue and not finish the task at hand.
Afterwards one of the boys comes to me and says _______ told me he's going to sabotage the show in the cottage after the run. I confront him not mentioning the other youth. He denies it. We do another run and he steps up his game to match the rest. We have 2 complete runs with stumbles, but we make it to the end. I still don't know what tomorrow will bring. It's their hardest audience first. Their peers, each of them is terrified of looking soft. That's the worst thing you can be called in this situation. I know they won't. In 13 years they haven't, and I don't expect this show to be different. They're primed for an audience now all they have to do is have more faith in themselves than they fear what others will think. What will happen? Who knows?
this weeks sample:
I was a…
Wanderer
I was a lost black kid
: Outsider
Always on the fringe of society
Forest walker
A walker of a lonely world
oath breaker
who couldn't keep his word
: thought keeper
who lived in his head
family breaker
who was able to destroy his own family
Traveler of the world.
The show is next week. We are inundated with fear. There are so many ways to find failure in the midst of success. There are the excuses: "I have other things on my mind," "I need to take a break," "What's the point of all this?" and my personal favorite, "THIS IS BULLSHIT!" The weeks have be filled with daily lectures of how and why attention to detail is important but it seems to fall on deaf ears. Two minutes after I give the talk the same behavior comes into the room. The writing is great, but the effort is inconsistent to say the least. When the focus is there they rise, but more often than not they succeed in pulling each other into the mire. They will make it but it won't be easy.
But then there is this weeks sample:
I'm a be better than the basic rap stars
Even if I don't make it that far
If I had to take on inference I'm a make a difference
Creating great tensions
For all those on the path to greed
As a branch for trees
Me to rap with ease
So I can pass the beat
So my cousin Adam Reed
Headin back to the streets to stop the action
Cuz it's getting hot
When the block reactin
I'll be prolly stackin
With a jolly passion
Askin how we could work together
Striving to change the world for better.
THE COUNTY HOME SCHOOL THEATRE PROJECT
is a five-week program that uses playwriting and theatre to educate and transform the lives of incarcerated juvenile offenders who are nearing the final stage of their treatment and are preparing to re-enter the community. Through developmental writing workshops, theatrical production and mentoring relationships the workshop develops creative self-expression, social interaction and discipline. The workshop channels the diverse emotional energies of the participants into structured forms of artistic expression. Check in here over the next few weeks to hear about this year's project as we head towards our performances
August 14 & 15  2pm @Pillsbury House & Theatre
we've settled down to a group of seven young men, 6 of whom are determined to make it and the seventh sits on the fence. He has all the tools to make it, but as the youngest, is the most concerned about the opinion of the other residents. When he is focused he is fantastic. He's a natural leader, on a football team he'd be the quarterback; on the basketball court, a point guard. With that skill set, he's often standing in the way of his own success. When he doesn't, his charismatic personality takes the group with him. Also, because he's the youngest and he's missed so much school, his writing skills are the weakest. His ideas are often restricted by poor spelling and sentence structure, but his understanding and awareness of the workings of his situation brings a power to his writing that can't be denied. I'm torn between the difficulty of classroom disturbances and the beauty of his insights.
P.S. Now, we're going into the next week and the aforementioned young man didn't make it. His decision was that the workshop just isn't for him. My heart drops but the show must go on!
Enjoy this sample of one of the kids writing:
trapped in incarcerated placements
I'm feeling anxious
Looking to begin a new start
But found myself beginning to lose heart
Wish to show the world my true art
Need to get my head straight first
Wonder if they can tell I left straight dirt
Remembering Kentrell my body starts to fidget
Seeking Zen and Health
But my body burns with sickness
– Mike
ABOUT THE HOME SCHOOL PROJECT: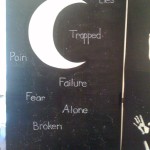 The Hennepin County Home School Theater Workshop is a five-week program that uses playwriting, poetry and theatre to educate and transform the lives of residents at the Hennepin County Home School. The workshop culminates with community performances. Professional artists mentor the young people and guide them through the theatrical process, writing and then performing their original script. The workshop develops creativity, social interaction and discipline and channels the diverse emotional energies of the participants into structured forms of artistic expression. The result is an artistic production of the highest merit. Sharing their work, words and success with the community is the keystone that validates them as participating partners in the community. The invited audiences include, their families, neighborhood youth groups, community arts groups, and workers within the juvenile justice system. Included are probation officers, judges, police and politicians.